October 13 update:

Many believe that Hillary Clinton's lawyer David Kendall lied to the chairman of the GOP-led Benghazi committee in a March 27, 2015 letter when he told Rep. Trey Gowdy that "'hrod17@clintonemail.com' is not an address that existed during Secretary Clinton's tenure as Secretary of State." In this 3/7/11 email sent from the hrod17@clintonemail.com address, Hillary Clinton tells Sidney Blumenthal, "Good for Cody! I'll follow up," regarding Libya "intel" that his colleague Cody Shearer - who worked with hoaxer Brett Kimberlin in the nineties when he claimed he sold pot to Dan Quayle - sent him regarding "intel" on Libya: pdf link. However, FactCheck.org's Eugene Kiely offers an extremely confusing explanation to back up Kendall's statement, so voters can choose whichever side they want to believe.
Back in the nineties, many conservatives speculated that Sidney Blumenthal - a journalist with ties to the Clintons - and pornographer Larry Flynt were working together to dig up dirt on Republicans and, perhaps, commit political "dirty tricks." An email hacked from Blumenthal's account might add new fuel to that conspiracy fire.
"Starting weeks before Islamic militants attacked the U.S. diplomatic outpost in Benghazi, Libya, longtime Clinton family confidante Sidney Blumenthal supplied intelligence to then Secretary of State Hillary Clinton gathered by a secret network that included a former CIA clandestine service officer, according to hacked emails from Blumenthal's account," ProPublica's Jeff Gerth and Gawker's Sam Biddle
reported
in a joint investigation on March 27, 2015. "The emails, which were
posted on the internet in 2013
, also show that Blumenthal and another close Clinton associate discussed contracting with a retired Army special operations commander to put operatives on the ground near the Libya-Tunisia border while Libya's civil war raged in 2011."
"The dispatches from Blumenthal to Clinton's private email address were posted online after Blumenthal's account was hacked in 2013 by Romanian hacker Marcel-Lehel Lazar, who went by the name Guccifer. Lazar also broke into accounts belonging to George W. Bush's sister, Colin Powell, and others. He's now serving a seven-year sentence in his home country and was charged in a U.S. indictment last year."
"It's unclear who tasked Blumenthal, known for his fierce loyalty to the Clintons, with preparing detailed intelligence briefs," Gawker and ProPublica reported. "It's also not known who was paying him, or where the operation got its money. The memos were marked 'confidential' and relied in many cases on 'sensitive' sources in the Libyan opposition and Western intelligence and security services. Other reports focused on Egypt, Germany, and Turkey."
"Indeed, though they were sent under Blumenthal's name, the reports appear to have been gathered and prepared by Tyler Drumheller, a former chief of the CIA's clandestine service in Europe who left the agency in 2005. Since then, he has established a consulting firm called Tyler Drumheller, LLC. He has also been affiliated with a firm called DMC Worldwide, which he co-founded with Washington, D.C., attorney Danny Murray and former general counsel to the U.S. Capitol Police John Caulfield. DMC Worldwide's now-defunct website describes it at as offering 'innovative security and intelligence solutions to global risks in a changing world.'

In one exchange in March 2013, Blumenthal emailed Drumheller, 'Thanks. Can you send Libya report.' Drumheller replied, 'Here it is, pls do not share it with Cody. I don't want moin speculating on sources. It is on the Maghreb and Libya.' Cody is Cody Shearer, a longtime Clinton family operative—his brother was an ambassador under Bill Clinton and his now-deceased sister was married to Clinton State Department official Strobe Talbott—who was in close contact with Blumenthal."
Gerth and Biddle noted that "Drumheller's attorney and business partner Danny Murray confirmed that Drumheller 'worked' with Blumenthal" and "Shearer said only that 'the FBI is involved and told me not to talk. There is a massive investigation of the hack and all the resulting information.'"
According to a letter reportedly sent from prison,
which was translated and published on June 9
, "Guccifer" regrets that he wasn't able to hack into Max Blumenthal's account, too.
"If I had a frustration, it was that I hadn't managed to also penetrate the Yahoo account of his son, Max, a young lizard, maker of dirty games, journalist and blogger, 'righteous heir' of his father's, known whippersnapper in Chicago's high-life," Guccifer allegedly complained.
"In conclusion, Hillary Clinton profited fully from the information supplied by the Blumenthal-Shearer-Drumheller-Grange clandestine network in 2011, 2012 and 2013. Especially that in 2011 and 2012 – the apex of the Libyan crisis – according to personnel lists, the American State Department didn't have a bureau chief in Libya, and in the entire Maghreb – Algeriia, Tunisia, Libya – were only two employees of the department on official duty."
In the middle of one email conversation about Libya on March 20, 2011, Cody Shearer - who has many ties to the Clintons - tells Sidney Blumenthal, "Off to meeting with Flynt shortly, heavy rain here."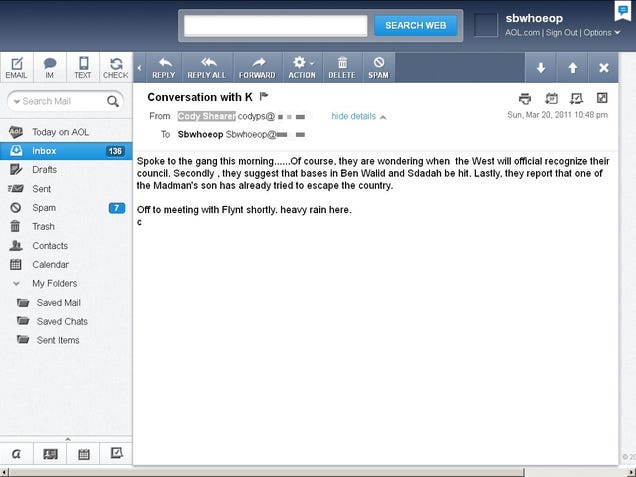 Of course, Shearer may have been referring to someone other than Larry Flynt, but the manner in which his name was raised does seem to be related to the strange spy network machinations, and many questions are being asked about who was funding the alleged operatives all around the world referred to in many of the hacked emails. If Shearer was meeting Flynt in Los Angeles on March 20, 2011 or thereabouts, the weather was
reportedly rainy
that week.
While one reference in an email is a lot to hang a conspiracy theory upon, there is no doubt that Flynt and Shearer have long ties to one another.
"Fasten your seat belts-this is the book that official Washington does not want you to read," Cody Shearer wrote about Larry Flynt's 2004 book, "SEX, LIES AND POLITICS: The Naked Truth", which the Hustler publisher and freedom of speech anti-hero
used to help hype it
.
"In 1999, Sam Dealey reported in the New York Post that Shearer was connected to pornographer Larry Flynt, who had been going after Republicans in response to the Clinton scandal," Mark Hemingway blogged at Weekly Standard
in late March
.
Dealey noted that Flynt told reporters that he hadn't "seen" then Deputy Secretary of State Strobe Talbott "in years"...[b]ut he is married to a sister of a very good friend of mine"; and asked, "Could Shearer be passing Flynt the goods on GOP members? Neither Shearer nor Flynt returned calls seeking comment."
"Cody's twin sister Brooke - Strobe Talbott's wife - has been a friend of Hillary's since their college days," Dealey wrote in his 1999 New York Post
column
: "Brooke joined the Clinton's 1992 campaign as an aide to Hillary. 'Sometimes at the end of the day, when Bill telephoned,' she reminisced of the campaign, 'we'd be laughing so loud, doing imitations and carrying on, that he'd say, 'You guys sound like you're having a lot more fun than I am.' After the campaign, she headed up Hillary's White House fellows program, and later moved on to become a senior advisor to the Interior Department."
Weekly Standard's Hemingways adds, "And two, [
in a 1999 article
] Slate also notes that'it was Shearer who, during the 1992 presidential campaign, introduced the world--through the unlikely medium of Doonesbury--to Brett Kimberlin. Kimberlin, you may recall, was the convicted bomber, habitual liar, and all-around sociopath who claimed to have sold drugs to Dan Quayle. Was Shearer acting on behalf of the legendary Clinton 'opposition research' outfit, which had floated damaging rumors during the '92 primaries about Paul Tsongas' health and Jerry Brown's drug use? Or was he just an enthusiastic free-lancer?' In recent years, Kimberlin has been involved in number of frivolous lawsuits aimed at shutting down conservative blogs."
On May 1, 2015, John Heilemann
reported for Bloomberg
that Flynt was endorsing Hillary Clinton for president. "The Hustler honcho has long supported Democrats—and thinks Clinton could get a chance to shift the balance of the Supreme Court," Heilemann explained.
"Flynt's people had lured me out West with the promise that he had something of import to say about the Democratic front-runner," Heilemann added. "It took little prompting to get it out of him. 'I'm endorsing Hillary Clinton for president!' Flynt declared."
"Flynt's backing of Clinton is, on the face of it, unsurprising. His support for Democrats at the presidential level has been lifelong and unfailing; one of his better friends in politics is California Governor Jerry Brown, who, as it happened, was next in line to see Flynt after I exited the building. His famous/infamous practice of trawling for the sexual indiscretions of public figures—which reached its apogee during the impeachment furor around Bill Clinton and claimed the scalp of House Speaker-to-be (and then not-to-be) Bob Livingston—has been directed almost entirely at Republicans. On his desk the day we met were galleys from the next issue of Hustler, including an column that confers on George W. Bush the honorific 'A--hole of the Century.'

For Clinton, a raft of endorsements from Capitol Hill to Hollywood have been a rare bright spot in a campaign launch filled with poor reviews and worse headlines. But whatever her private views of Flynt and his profession, it beggars belief that she and her team will be issuing any press releases touting the latest bold-faced name to clamber aboard her bandwagon.

Flynt is well aware of that most politicians prefer to keep their distance from him, and that Hillary will likely be among them. And he professes not to care. 'Hillary doesn't need no help from me,' he says. 'All she needs to do is start fighting back'—in particular against Clinton Cash author Peter Schweizer, whose campaign against Hillary Flynt likens to that of his bete noire Jerry Falwell against Bill Clinton in 1992. 'One of the biggest evangelists in the world put out a video accusing President Clinton of murder—[and Schweizer's book] is the same kind of smear tactic.'"
The pornographer claimed to Heilemann, that at a 2006 fundraiser, former President "Bill Clinton—apparently still grateful for the porn king's role in the downfall of Bob Livingston, a key moment in the deflation of the impeachment bubble—walked over, shook Flynt's hand, and said, 'You're my hero.' As I prepare to leave, Flynt shows me a photo on his desk of him and Clinton from the fundraiser, noting that the former president has denied the quote in question. 'He can say whatever he wants,' Flynt chuckles. 'I have three witnesses.'"
"While advising Mrs. Clinton on Libya, Mr. Blumenthal, who had been barred from a State Department job by aides to President Obama, was also employed by her family's philanthropy, the Clinton Foundation, to help with research, 'message guidance' and the planning of commemorative events, according to foundation officials," Nicholas Confessore and Michael S. Schmidt
reported for The New York Times on May 18, 2015
. "During the same period, he also worked on and off as a paid consultant to Media Matters and American Bridge, organizations that helped lay the groundwork for Mrs. Clinton's 2016 campaign."
The New York Times story continued, "Some of Mr. Blumenthal's memos urged Mrs. Clinton to consider rumors that other American diplomats knew at the time to be false. Not infrequently, Mrs. Clinton's subordinates replied to the memos with polite skepticism."
One of the emails from Blumenthal that Hillary Clinton finally provided to Congressional investigators who have sought her communications on Libya that the New York Times recently published was a forwarding of an email originally sent by Drumheller to Blumenthal and his colleague at DMC Worldwide, John T. Caulfield (
page 189 of pdf
) on September 12, 2012.
According to his biography from the scrubbed DMC Worldwide website, "In over twenty-five years of service to Congress and the Capitol Police, Mr. Caulfield has provided all kinds of counsel, including as a legal strategist and accomplished expert on the legislative process and government investigations, and received numerous commendations and awards. Mr. Caulfield also gained unique and invaluable hands-on expertise in all aspects of emergency response and crisis management as the Chief Legal Advisor for the multi-agency and asset Congressional Response Management Team relative to the anthrax terrorists' acts against the U.S. Congress."
As shown above, Caulfield's bio oddly refers to "anthrax terrorists" instead of "anthrax terrorist". This is either a typo or DMC Worldwide knows something about the attacks that wasn't reported.
"DMC guides companies as they address the most pressing security threats of today and the next five to ten years: supply chain risk, cyber-security, climate change risk, and extreme events such as nuclear, biological or chemical terrorist (and other) attacks," the firm's website claimed (
archive link
).
But "Defensive Approaches to Risk are No Longer Sufficient", DMC Worldwide's firm argued.
"Not only are the types of threats changing; global expectations are as well. As the Danish cartoon crisis, troubles faced by American contractors in Iraq and various divestment campaigns show, image as well as community and legal challenges can hurt a company as dramatically as a direct attack on a facility."
DMC Worldwide
claimed
, "In order to enhance their competitive position, a major defense industry contractor wished to change how the government perceived them and improve the training and research that went into the services they provide. DMC developed a comprehensive strategy that included new training for employees, detailed analysis of the current governmental view on security, a targeted government relations campaign, and analysis of the devices being developed in relation to projected terrorist concerns."
"Many of DMC's experts choose to remain anonymous until their expertise is required for a particular client,"
an archive cache of the scrubbed DMC Worldwide website reveals
. "This is due to their high profiles and past careers. Below is a list of some of the network members."
Along with Drumheller, Caulfield and Murray, the website listed Tom Fahy, Michael Driggs, Clifford L. Downen, Ralph J. Marlatt, Donald B. Mathis, Mike Michael, J. Douglas Smith and Kurt A. Wagner as "network members." Based on Google searches and online bios, nearly everyone listed appears to be in their late fifties or older. Tom Fahy - who is currently a Lobbyist for Weather, Warnings and Satellite public policy - doesn't even name DMC Worldwide on his
Linked In resume
. William "Mike" Michael and J. Douglas Smith spent decades working for the CIA.
Here are excerpts from their bios (
Zoom info archive link
):
"Tom Fahy is one of the leading advocates and experts on the intersection between technology, public broadcast systems, and homeland security. The U.S. Department of Justice honored him by selecting him to serve on the first National AMBER Alert Advisory Board that made policy recommendations to the Attorney General. He collaborated with three state emergency management agencies to upgrade the Emergency Alert System capabilities with a satellite link for instantaneous emergency messaging to benefit law enforcement with AMBER Alerts, which was expanded to include All-Hazards alerts and warnings to the public for homeland security.

Tom Fahy serves on the Board of Directors for the Emergency Interoperable Consortium (EIC), which works in cooperation with the US Department of Homeland Security to create a national approach for the adoption of XML data interoperability standards and accurate exchange in incident information throughout the Emergency Management Community.

Mr. Driggs is recognized as an expert in economic analysis. He also demonstrated strong management ability when he took the lead in the management of the Chrysler Corporation as the government provided assistance for the reconstruction of that company. Mr. Driggs has strong international business experience as President of ICN, a company that provides preferred access to private clubs around the world.

Mr. Downen is a native of Illinois and graduated from McKendree College with a BA in History and Political Science. After graduation he was elected as the youngest member of the Illinois Continental Convention where he served on the revenue and finance committee. After successfully serving on the campaign staff of President Reagan in Illinois, California, and Kansas City. In 1978 he became chief of staff to Congressman Daniel Crane. His duties included the Foreign Relations Committee and the Armed Services Committee.

Mr. Downen served as the Public Affairs Officer for the Chairman of the Federal Matime Commission. He was then appointed as Assistant Administrator of the U.S. Small Business Administration. President George H.W. Bush designated Mr. Downen as the Director of Congressional Affairs at the U.S. Department of Commerce.

Since 1993, Mr. Downen has been serving as an advisor to the Parliament of the Ukraine, working with the Council of Advisors to the Parliament. He also served as Executive Director of the U.S./Malaysia Exchange Council and worked extensively with members of the European Parliament in Brussels.

Ralph Marlatt has over 35 years experience as an international management consultant specializing in association capacity building, government affairs, and international business development. Strategic planning and leadership training are fundamental to the success of any endeavor. Mr. Marlatt has provided technical expertise to business associations and public organizations in Egypt, Brazil, Serbia and Montenegro, Hungary, Romania, Uganda, Turkey and Afghanistan.

Mr. Mathis brings to DMC the real-world skills from twenty-five years with the BellSouth Corporation plus nearly a decade of private consulting in a wide variety of industries and disciplines. The client base of his consulting organization ranges from Fortune 500 companies (Sikorsky Aircraft, Philip Morris, Service Corporation International, etc.) to local hotels, law firms, developers, entertainment groups, and government organizations.

William "Mike" Michael brings over twenty-five years of extensive experience as a Senior Intelligence Service Officer in various leadership positions at the Central Intelligence Agency, the Federal Bureau of Investigation, and the U.S. Department of State.

Mr. Michael initiated programs and unprecedented cross-government Memorandum of Understanding which generated millions in cost savings for, and greatly enhanced security of, the largest critical threat security program ever undertaken by the U.S. Government. He transformed the largest Working Capital Fund enterprise from negative to positive assets in less than one year.

Mr. Michael rebuilt relationships across bureaucratic borders to enable the longest construction program ever undertaken by the CIA to be completed successfully and securely. He has also managed a large support platform overseas during wartime, developing solutions to provide on-the-spot surge capabilities without the traditional infrastructure.

Mr. Michael facilitated the relocation of the then largest overseas presence of the CIA personnel, ahead of schedule and under budget. He also developed the strategic plan and secured Congressional support for the largest CIA program of its kind involving external leased facilities, implementing the plan on time and under budget. Mr. Michael has received numerous Exceptional Performance Awards and Senior Intelligence Service Awards. He has also received the National Intelligence Medal of Distinction, and the Secretary of State Meritorious Award.

Mr. Smith currently works as a security and counter-terrorism consultant based in Athens, Greece, following a 31-year career with the CIA. "While serving with the CIA, he held numerous senior positions directing operations in Greece, Austria, Bosnia, the Democratic Republic of the Congo (Zaire), and Mozambique. He also directed counter-terrorism operations in Athens. Mr. Smith spent five years on active duty in the Navy.

Kurt A. Wagner is the founding member of the Law & Consulting Offices of Kurt A. Wagner, P.C. and a founding partner of Wagner & Schell, L.L.P. with offices in the United States and the European Union. Mr. Wagner brings experience, expertise and contacts from government, business and academia to the DMC network. Prior to establishing his international business law practice, he served eleven years as a U.S. diplomat in Europe focusing on strategic economic, political and security matters including postings as the Ambassador's staff aide in Austria, head of the political-labor section in Malta and as a political officer in Portugal. Before joining the diplomatic service, Mr. Wagner was a business consultant in London to British firms with interests in Egypt, Jordan, and Saudi Arabia.

"
(Editor's Note: Cody Shearer helped push the alleged claim that convicted bomber Brett Kimberlin once sold pot to Dan Quayle. I've been - absurdly - and wrongly accused of committing crimes including "political terrorism" on behalf of Brett Kimberlin, partly due to his alleged ties to my former employer, RAW STORY. RAW STORY founder and publisher John Byrne is (or was) friends with Max Blumenthal, and my former boss has ducked questions about Kimberlin for four years. During my 4-year tenure as Executive Editor, RAW STORY published articles by Max Blumenthal, and Hustler published a story by Larisa Alexandrovna based on her reporting for RAW STORY.)
DEVELOPING...MORE TO COME...